Pig Candy
Sons of Butchers Recipe served at From the Ground Up
Ingredients:
1 package of bacon                           1 cup brown sugar
1-2 tsp red pepper flakes                 1 tsp paprika
1 tsp chili powder                              1 tsp cayenne
¼ tsp garlic powder                          ¼ tsp onion powder
¼ tsp salt                                            ¼ tsp pepper
In a medium bowl, combine all ingredients, except the bacon, and mix well with a fork.
Take a package of bacon, cut the slices in half, and place them on a cooling rack placed on foil lined cookie sheet.
Spread the sugar mixture over pieces of bacon making sure to cover completely . Reserve about 1/3 of sugar for the other side
Bake at 375F for 20 minutes in oven or on grill. Flip over and apply the rest of sugar mixture. Finish baking until the bacon is crispy but not burnt. Time will vary based on thickness of bacon. Check frequently as sugar will begin to burn if left in too long.
Let cool for a little bit and enjoy!
Bacon and Eggs Fried Rice 
Ingredients: 
2 cups Water
1 cup Long Grain Uncooked Rice
1 tsp. Kosher Salt
12 oz. Bacon, chopped and cooked crispy (3 tbsp. bacon drippings reserved)
5 Large Eggs, scrambled
2 Large Garlic Cloves, grated or finely minced
½ tsp. Ginger Powder
8 oz. Bean Sprouts
¼ cup Low-Sodium Soy Sauce, plus 1-2 tbsp. if needed
3-4 tbsp. Green Onion, finely sliced
1. Bring the water to a boil. When the water is boiling vigorously, add the rice and 1 tsp. of salt, stir. Lower the heat, cover the rice, and let the rice sit and cook for about 5-7 minutes. 
2. Scramble the eggs and fry bacon (reserve 3 tbsp. of bacon drippings). 
3. Heat 2-3 tbsp. of the reserved bacon drippings in a large wok or deep, non-stick skillet over medium-low heat. When the oil is hot, but not smoking, add the garlic and ginger powder, stir well to combine. Cook 15-30 seconds, stirring constantly. 
4. Raise the heat to medium and immediately, add the cooked white rice, bean sprouts and eggs, give everything a good stir. 
5. Add in ¼ cup of soy sauce while stirring constantly to coat the ingredients completely. Lower the heat to medium-low and continue stirring. Check the color and taste the fried rice, add a little more soy sauce, if needed.  
6. Lastly, sprinkle in the reserved bacon and green onions and continue stirring until everything has come together.
Reduce to low heat, cover and cook for 10 minutes, to warm through and to let the flavors come together.
Serves 4-6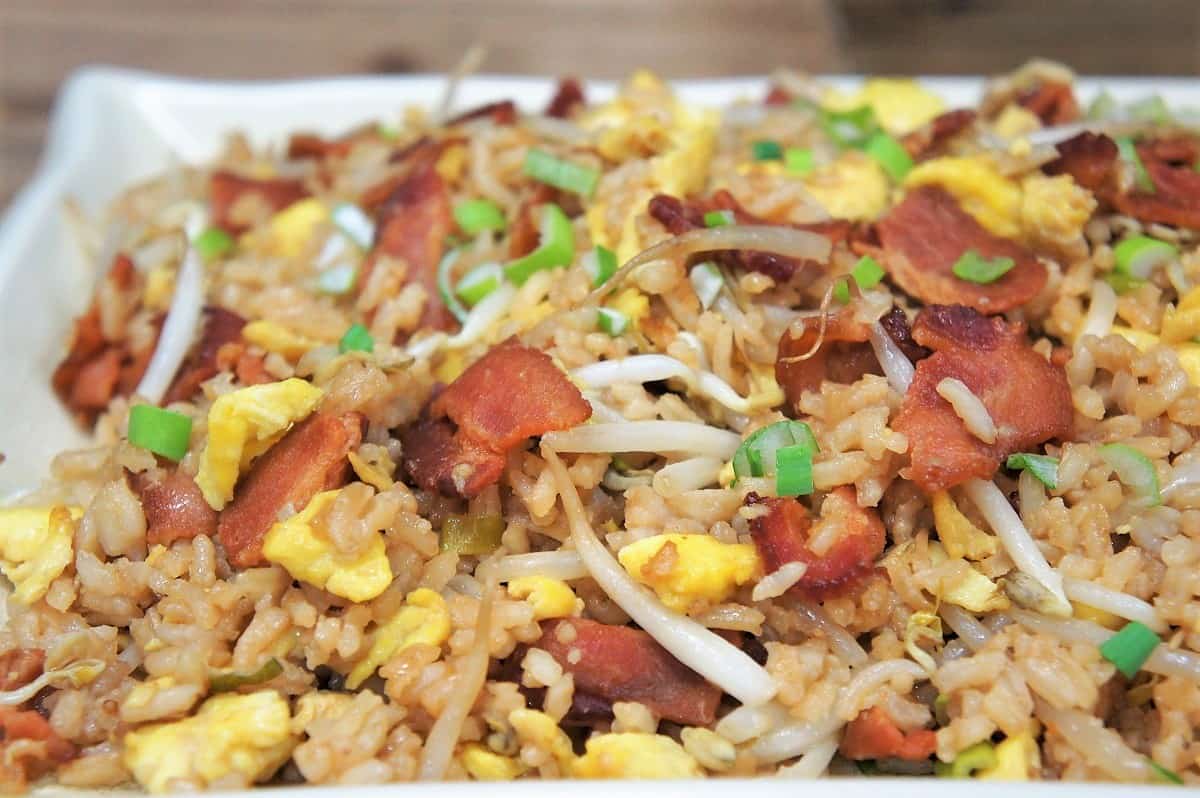 Bacon Studded Doughnut Holes
Ingredients: 
3/4 cup flour                                    1/3 cup granulated sugar
2 tsp baking powder                       2 tablespoon vanilla protein powder
3 eggs                                               2/3 cup milk
1 tbsp maple extract                      2 tbsp butter, melted
oil for frying                                    2 slices cooked finely chopped bacon
1/4 cup carmel sauce
Combine dry ingredients in medium bowl. In small bowl, whisk together eggs, almond milk and melted butter. Add wet ingredients to dry ingredients and stir well. Let sit for 3 minutes, then form into 12 tightly packed balls. 
Heat about 1 inch of oil in heavy bottomed pan until oil reaches about 350˚F. Fry donut holes for 1 – 2 minutes per side or until golden brown and cooked through. Remove to paper towel to drain any extra oil. Cool for at least 5 minutes.
Right before serving, add donut holes to large bowl and pour caramel over top (heat gently if necessary to thin out consistency.) Stir gently until all donut holes are coated in caramel.
Spread chopped bacon on a flat plate, then roll caramel coated donut holes in chopped bacon. Serve warm.
Apple Pie Bacon Danish
Ingredients: 
1 8oz pkg bacon, chopped              4 medium apples
1 tsp lemon juice                              1 tsp cinnamon
1/3 cup light brown sugar              4oz cream cheese
1/4 cup powdered sugar                1/2 tsp vanilla
1 can refrigerated biscuits
For Glaze:                                        2 tsp milk
4 tbsp powdered sugar                1/2 tsp vanilla
Preheat oven to 350˚F.
Add bacon to medium sauté pan and cook until crisp. Remove bacon to paper towel-lined plate and set aside.
In large bowl combine apples, lemon juice, cinnamon, brown sugar and cooked bacon.
In medium bowl combine cream cheese, powdered sugar and vanilla.
Remove biscuits from tube and space out evenly on prepared cookie sheet. Use bottom of a can to press down each biscuit until flattened and a shallow impression is formed for filling. Place 1/4 cup of filling on each biscuit and top with heaping tablespoon of cream cheese mixture.
Bake for 18-24 minutes, or until edges of biscuits begin to turn golden. Remove and place cookie sheet on wire rack to cool, about 10 minutes.
While Danishes cool, prepare glaze by combining milk, powdered sugar and vanilla in small bowl; mix until smooth. Use a fork to drizzle glaze over biscuits and serve immediately.