A quick, easy breakfast . . . or any meal, really.
2 cups water
1 cup long grain uncooked rice
1 tsp kosher salt
12 oz bacon, chopped and cooked crispy
3 tbsp reserved bacon drippings from cooked bacon

5 large eggs, scrambled
2 large cloves garlic
1/2 tsp ginger powder
8 oz bean sprouts
1/4 cup low-sodium soy sauce
3-4 tbsp green onion, finely sliced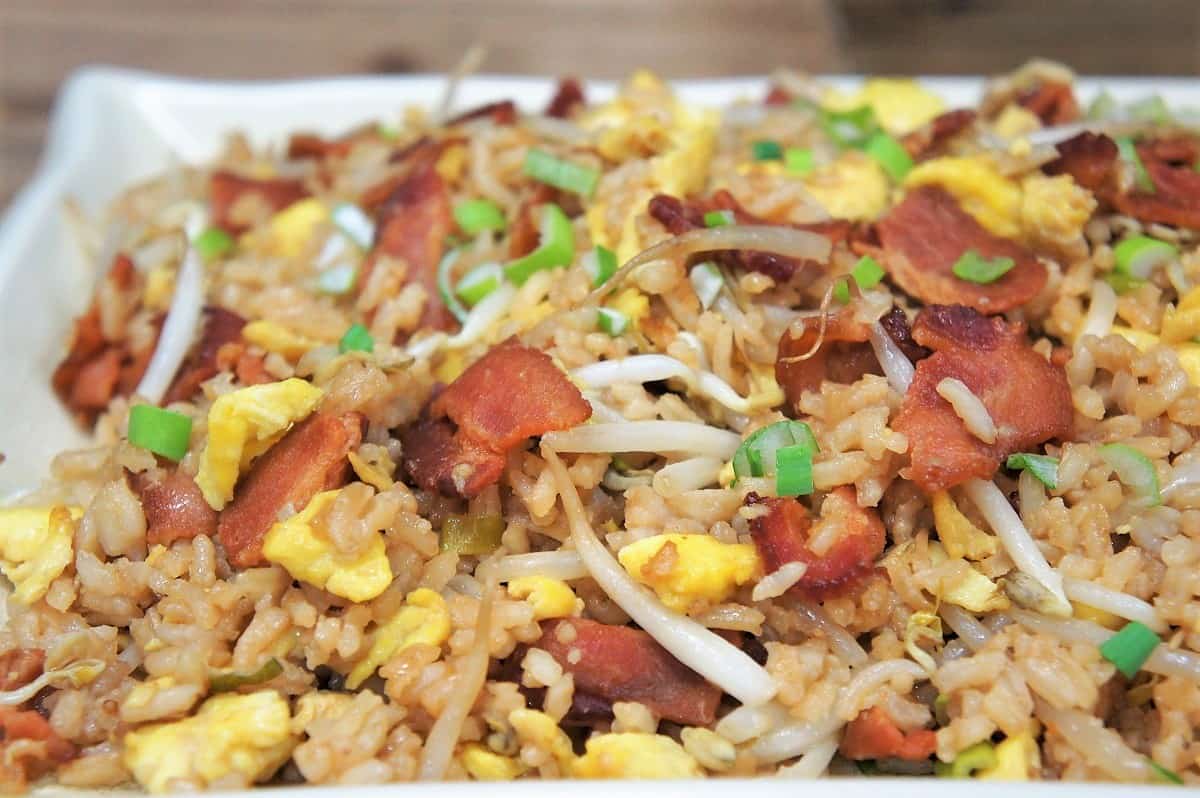 Step-By-Step Instructions
Step 1
Bring the water to a boil. When the water is boiling vigorously, add the rice and 1 tsp. of salt, stir. Lower the heat, cover the rice, and let the rice sit and cook for about 5-7 minutes.
Step 2
Scramble the eggs and fry bacon (reserve 3 tbsp. of bacon drippings).
Step 3
Heat 2-3 tbsp. of the reserved bacon drippings in a large wok or deep, non-stick skillet over medium-low heat. When the oil is hot, but not smoking, add the garlic and ginger powder, stir well to combine. Cook 15-30 seconds, stirring constantly.
Step 4
Raise the heat to medium and immediately, add the cooked white rice, bean sprouts and eggs, give everything a good stir.
Step 5
Add in ¼ cup of soy sauce while stirring constantly to coat the ingredients completely. Lower the heat to medium-low and continue stirring. Check the color and taste the fried rice, add a little more soy sauce, if needed.
Step 6
Lastly, sprinkle in the reserved bacon and green onions and continue stirring until everything has come together. Reduce to low heat, cover and cook for 10 minutes, to warm through and to let the flavors come together.